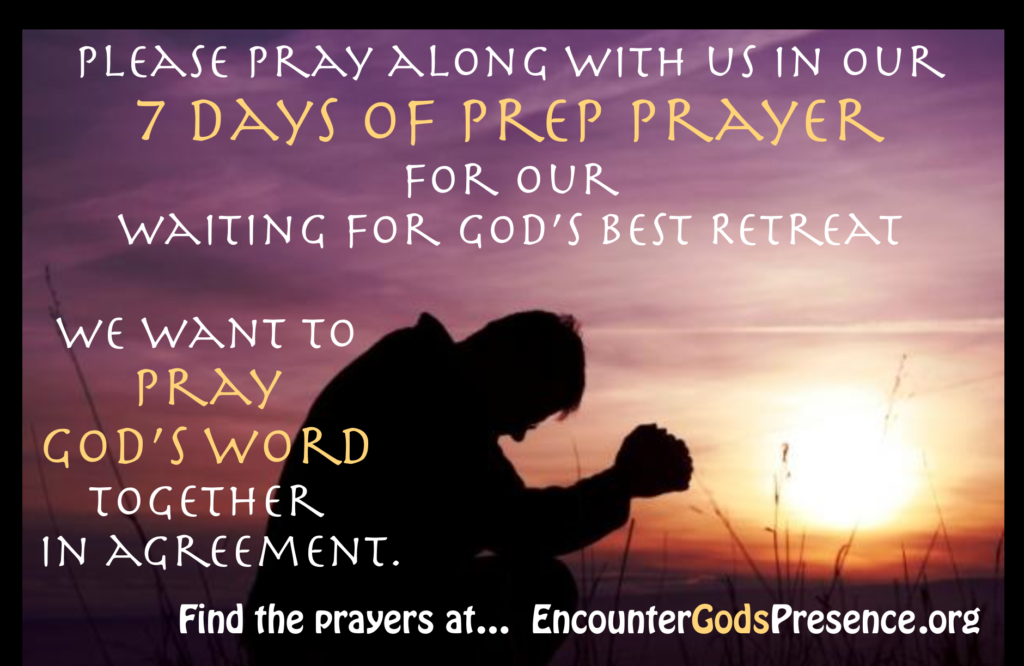 Calling again all prayer warriors …
7 days from now, we'll start our Waiting For God's Best retreat, which will from Sat. March 9th to Mon. the 11th. Understanding that there is major spiritual warfare before, during and after an event like this, we know that we can't just sit idly by but have to engage with the spiritual weapons God has given us.
We want to pray Biblical prayers as we prepare these next 7 days for what God has for all those who are going to be impacted by being at this retreat. Please commit to praying each day with us. Thanks to Marilyn Koland for helping put these together.

So please ask others to join us in praying, this could also be what helps draw someone to hurry register and have a real life-changing encounter with God.
For His glory,
Jason & Heidi Williams
✞ ✞ ✞ ✞ ✞ ✞ ✞ ✞ ✞ ✞ ✞ ✞ ✞ ✞ ✞
Day # 1 of 7 Prep Prayers – Knowledge
"My people are destroyed from lack of knowledge…" Hosea 4:6a (NIV)
"The fear of the Lord is the beginning of wisdom…" Psalm 111:10a (NKJV)
We all face times of struggles and sometimes even doubts. We need to be people who seeks knowledge in God's Word so we won't lack wisdom in our lives. We need to realize if we have knowledge and wisdom that comes from the heart of God then He will lead us to walk in our destiny and live a life full of His joy.
Let's pray this together . . .
Father God, as we get closer to our Waiting For God's Best retreat, we ask that Your Holy Spirit would really prepare our hearts.
Please begin speaking to everyone who will be leading a session, telling their stories or sharing prophetic words that You will give them Your knowledge and wisdom to share with us.
We ask that Your love and grace will drive everything that's said and done. Please open all our hearts and minds to receive the messages that will guide us to grasping the value of waiting for what You have for us.
We praise You for Your awesome love for us and for those that are waiting for a future spouse You have created.
Please help our walk in life to glorify You. We also thank You for all the amazing things You have planned for us.
In Jesus Name we pray all this.
✞ ✞ ✞ ✞ ✞ ✞ ✞ ✞ ✞ ✞ ✞ ✞ ✞ ✞ ✞
Day #2 of 7 Prep Prayers – Transformation
-". . . be transformed by the renewing of your mind . . ." Romans 13:26.
-"Set your minds on things above, not on earthly things" Colossians 3:3
The enemy likes to try to confuse our thoughts and his plan is to try to destroy what God has done and mess up our future and all the beauty of God's gift of marriage. We have to allow God to renew our minds and choose to set our minds of what God has for us no matter what stage of life we're in.
Let's ask God for help now….
Heavenly Father, we praise You for Your majesty and unexplainable love. We are Your sons & daughters and are grateful that You desire to help us and do amazing things in us and through us.
You created marriage as one of Your special gifts where we can experience a life of happiness with our mate. Since we are not robots or mindless puppets but have given each of us a mind to use with Your wisdom, help us to renew our minds daily in Your presence and Your Word. We're asking that Your transforming power will constantly renew our thoughts, thoughts that will bring glory to You.
In every part of this retreat, help us to have the mind of Christ so that we will receive what You want us to have and we be able to challenge and encourage each other.
We ask these things in Jesus Name.
✞ ✞ ✞ ✞ ✞ ✞ ✞ ✞ ✞ ✞ ✞ ✞ ✞ ✞ ✞
Day # 3 Prep Prayers – Hope  
– "Put your hope in God, for I will yet praise Him, my Savior and my God." Psalm 42:5b
– "Now faith is being sure of what we hope for and certain of what we do not see." Hebrews 11:1a
As we choose to put our hope in God's promises, we can see more and more how trustworthy He is. We need to learn how to trust God more and more with our struggles and relationships and esp. for those who hope to get married one day.
We need to be overcoming our past and current struggles so let's repent from our sins and get free from any guilt or shame of the past and start living in true freedom that's in God's truth.
Praying this together . . .
Holy Spirit, we praise You for being our Guide in life and ask You to help us as we look for the right friends and for those of us who are looking to get married on down the road.
Heavenly Father, help us to submit to Your will patiently knowing that Your love is leading us into the path that will bring God's best for each of us. Help us to be totally devoted to You. Please, use this upcoming retreat to do a deep work in our lives.
In Jesus Name we pray all this.
✞ ✞ ✞ ✞ ✞ ✞ ✞ ✞ ✞ ✞ ✞ ✞ ✞ ✞ ✞
Day 4 of 7 Prep Prayers – Heart
–          Delight yourself in the Lord and He will give you the desires of your heart. Psalms 37:4
–          Above all else, guard your heart, for it is the wellspring of life. Proverbs 4:23
We need to guard our hearts and when we do and delight ourselves in God, He will give the desires of our heart.
Total surrender to God involves our mind, will and emotions.
When we dedicate our hearts to Him, we become free and alive like the old sinful nature could never know. That opens a free and abundant life where our hearts can really be filled with His joy.
Let's pray this together . . .
The desire of our hearts is to be in complete surrender to Your will as we open our hearts to You at this retreat.
 Jesus, You created each of us to have pure desires. Teach us how to delight in Your desires. We praise You, thank You, and regardless of our circumstances, we declare our lives are going to be full of joy.
Help us to see how You find abundant joy in each of us. We worship You now and can't wait to delight in Your presence at this coming retreat. Thank you for loving us and showing us just how much You really love us.
We ask these things in Jesus Name.
✞ ✞ ✞ ✞ ✞ ✞ ✞ ✞ ✞ ✞ ✞ ✞ ✞ ✞ ✞
Day #5 of 7 Prep Prayers – Purity
–          For God did not call us to be impure, but to live a Holy
life. I Thessalonians 4:7
–          The goal of this command is love, which comes from a
pure heart and a good conscience and a sincere faith.
I Timothy 1:5
The God who created us is completely Holy and Pure. He is calling all
His believing children to live the same way. It is not a mix of purity and
impurity, it is truly pure. As we pursue to have a hear that is more pure each & every day, that's ask God for help & do and say the things that will keep us moving closer to Him.
Let's pray this together . . .
God, our Father, only You are truly Holy. Help us to walk in the purity
of Your love, and let us remember that You, the God Who is Holy lives in us. You have called us to live in purity. Live in our lives God so Your love within us will help to lead my friends to want to know You and Your purity also. This is how we praise You God, by honestly living a pure life before
You in our thoughts, in what we say, and in what we do every day.
Thank You for loving us so much and watching over us every day.
We gratefully pray this in Jesus Name.
✞ ✞ ✞ ✞ ✞ ✞ ✞ ✞ ✞ ✞ ✞ ✞ ✞ ✞ ✞
More to be added. Check back daily.