Let's plan a Mission Trip to Houston for your group or join the one already being planned for a weekend in October 2023. We have not set a firm date and are praying for which church to minister at that Sunday morning we're in town. If your church would be interested in having EGP then please let us know.
Past year's info below.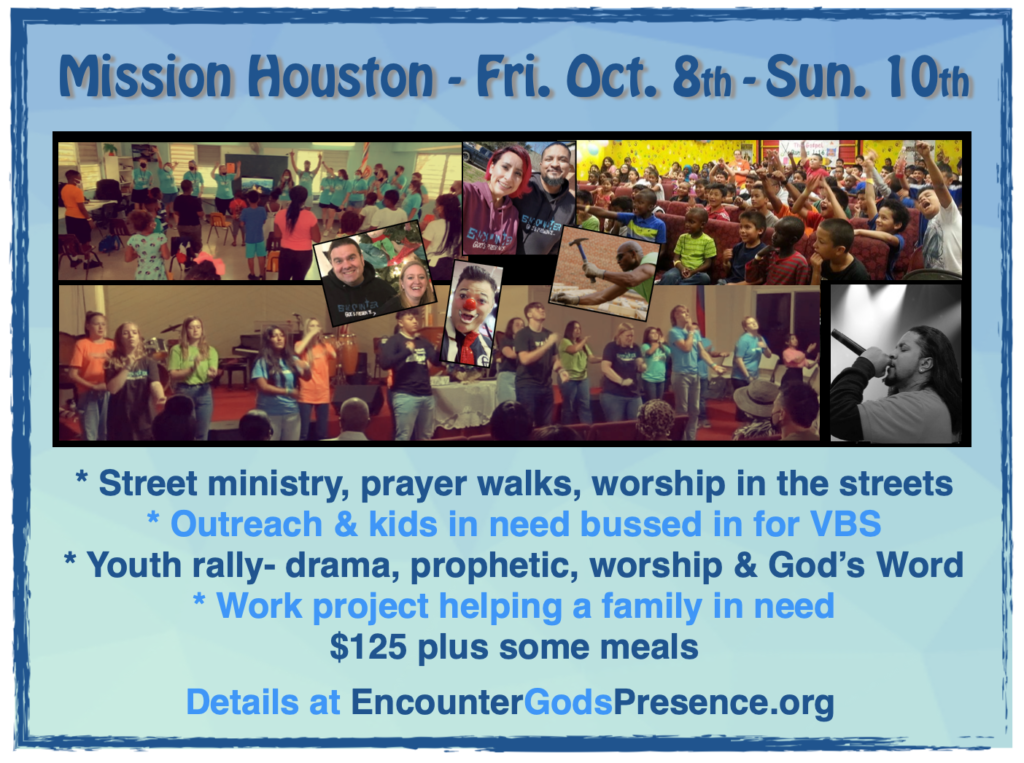 This Mission Houston is a great opportunity to make a difference by serving & ministering to the people in the community sharing our Father's heart. Each mission trip can involve different outreaches. Understand when ministering in the "red light district" most people esp. youth are usually stationed to stay in the parking lot where we are set up for worship & prayer in a safe environment with Elijah Rising who has been doing these outreaches every week for years.
Here's our past trips details fyi…
October Fri. 8th 10am – Sun. 10th 7pm, 2021 and cost is $125.
Paul & Yuri will be helping lead the prophetic ministry. Lance (a.k.a. RockO the clown), Kevin & Bex will be helping make some awesome videos.
Cost covers 2 nights lodging,

3 meals,

outreach costs & supplies. You need to bring money for travel & a couple of meals. Let us know if you're available to bring your vehicle or you're hoping to chip in for gas and ride with someone in our caravan.
Our Prep & Prayer meeting will probably be on Sun. Oct. 3rd.
Let us know if you, your church group, or ministry is interested in being a part of this.
Adults & young adults new to EGP (that we do not know) are invited to fill out an application, background check & provide character references.
Youth groups with their youth pastor can join up. (Individual teenagers joining may need to have at least one adult leader coming with them.)
We will know as we get closer on Covid related details, like if we ever need to wear masks at a certain event. We will want to be prayed up so we can truly impact these people with the truth and love of Jesus.
Contact us asap if you're interested in this trip or in putting a group together for another mission's trip.
Teenagers missing school on Friday? Let us know if you need a letter to give to the school for an exemption for Friday due to a Christian mission's trip.
NOTE: Teenagers, you may need to have a parent be a part of this trip depending on how many servant leaders (youth workers) are able to help. P
arents can bring their kids as we believe in family ministry.
Steps to be a part of this mission trip…
1st Step – Send a Facebook message or email us that you're interested in being a part of the mission trip team at

EncounterGodsPresence@gmail.com
2nd Step – Turn in registration form with non-refundable

$50 deposit

by Wed. Aug. 25th.
You can pay through the different apps or mail a check
made out to "EGP"
if time allows.
(If some reason the
application
is not approved, deposit will be returned).
Next is the

$75 payment

due by Wed. Sept. 15th,
$25 late fee if after Wed. Sept. 22nd, another
$25 late fee if after Wed. Sept. 29th
. (Those already in the Houston area meeting up with us, pay only $80 total.)
Be praying for your and other team member's needed funds.
3rd Step –
You will then send in a copy by scanning or taking a picture of this filled out page…
"A Little About You – ways to help."
<><><><><><>
Extra Step – Unless you are a return mission trip team member or you have been involved as an EGP volunteer before, you need to print and fill out an
application
and have others fill out the Christian Character Evaluation.
Want to donate to help sponsor someone? Use the donation options below.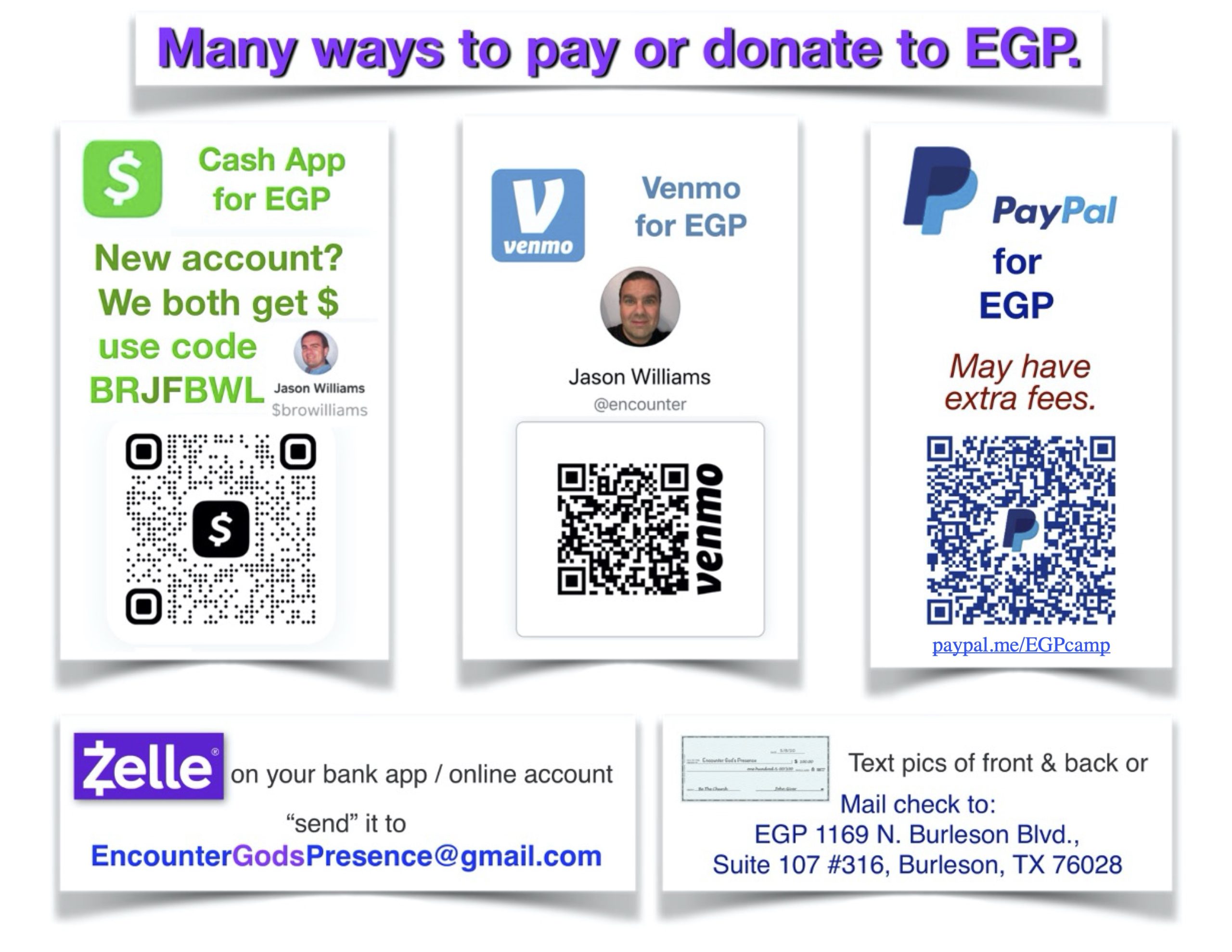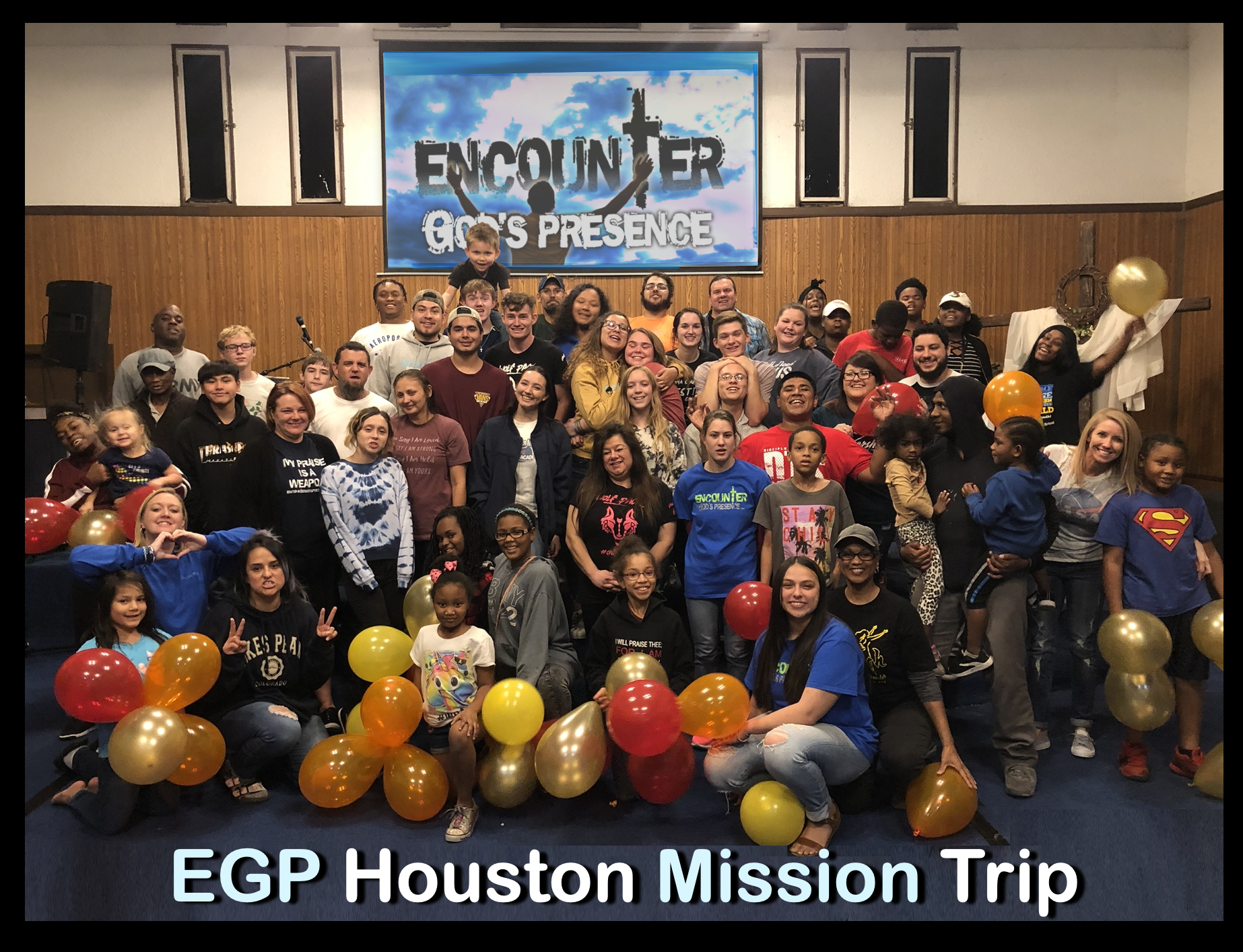 (We're doing another Mission Trip back to St. Croix, U.S. Virgin Islands July 2022, need adults and youth regardless of your "skill set" to help. More click here for info.)

.
.
.

Some past videos and past trip's info…

Help Houston !!!
Go Serve or Send Funds!
Encounter God's Presence ministry is gathering a team to go down again to help those in the Houston area, in the town of Wharton/ Hungerford.
We'll be giving practical physical help along with putting on a E.G.P. youth rally to encourage the teenagers there on Sat. night and then leading a Sun. morning service (worship & multi-media message) for a local body of believers.
If you would like to volunteer to help or give (tax-deductible) towards our mission trip there please send us a Facebook Message or email for more details.
If you can't get away yourself but can help sponsor someone who can but just needs help financially please send us a
Facebook Message or email
.
Again to volunteer to help or give towards our mission trip there please send us a Private Message for more details.
Please be praying for all of those affected by wants happened and what may continue this next week.
For His glory,
Jason & Heidi Williams


*** **** **** **** ****
$50 deposit non-refundable due Wed. Aug. 25th
$75 payment non-refundable due Wed. Sept. 15th
Add $25 Late Fee after Wed. Sept. 15th
Add $25 Late Fee after Wed. Sept. 22nd
Add $25 Late Fee after Wed. Sept. 29th
PayPal options (with the PayPal fees)
Click on little arrows below, choose your choice and then click on "Add to Cart"
If you're with a group or coming on your own, you make payments directly to EGP. You can mail checks (address below) or online options are listed below. (Fastest options are and PayPal and bank transfer with checks being the slowest.)
1. Mail checks to E.G.P. (if mailed 5 business days in advance) to…
Encounter God's Presence 1169 N. Burleson Blvd., Suite 107 #316, Burleson, TX 76028
2. Direct bank transfer to E.G.P.'s bank account.
Can set up on your online banking as "bill payment" if done 5 business days in advance.
3. PayPal options below. (Note – some have fees.)