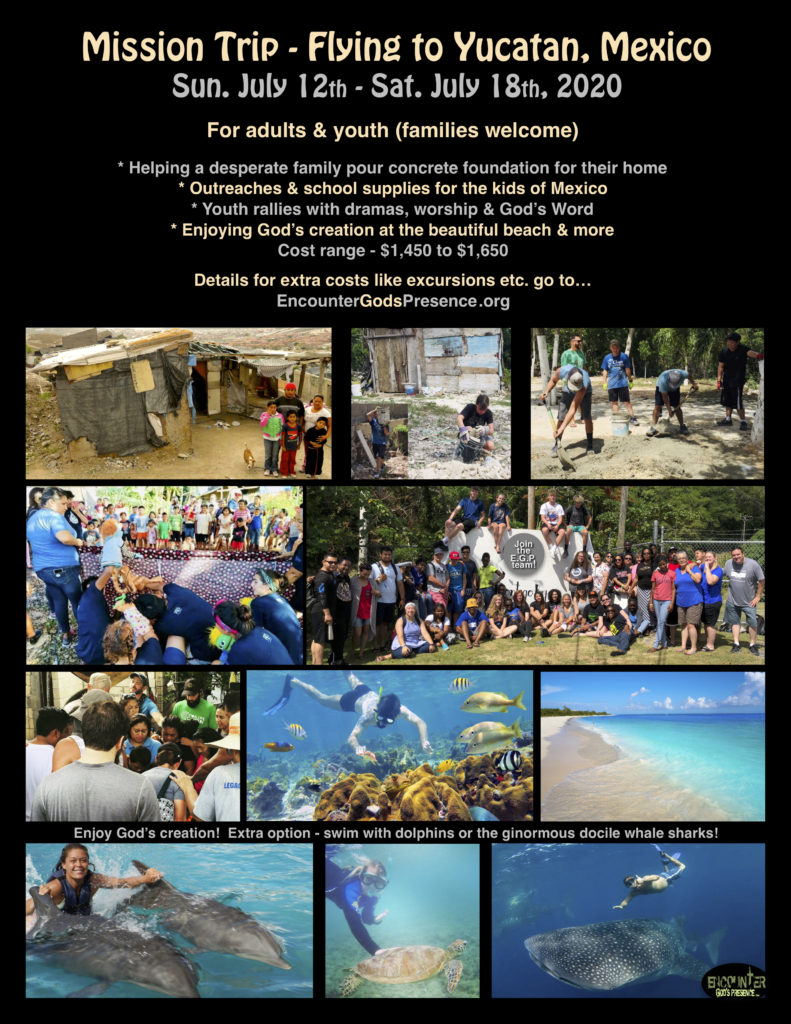 Mission Trip to Yucatan, Mexico Sun. July 12th – Sat. the 18th, 2020
Yucatan Peninsula is in the southeast part of Mexico. We will be flying in and staying at a hotel and then working with a Christian ministry in Cancun.
We know a family with children from Pennsylvania that have lived at this Christian ministry and have been hosting numerous groups for over 12 years, never had any safety concerns and have seen great success.
We will be doing outreaches and VBS for the children of Mexico. There is a poverty stricken Mexican family that needs better living conditions and we want to play a part in that by paying for and by pouring the concrete foundation for their home.
Be a part of this team where we'll also be performing dramas, leading worship, praying for many and putting on Encounter Nights. Supplies will be gathered for the many that are in need.
You can be the hands and feet of Jesus and be a part of reaching the lost.
After a week of ministry, we'll wrap things up by celebrating God's creation on the beautiful Caribbean beach and snorkeling with the amazing fishes.  
Total cost should be around $1,450 to $1,650.
Breakdown is …
1. Flight – (avg. $400 – $500)
2. Hotel, all transportation & most meals – to EGP
3. Travel meals, beach, snorkel any extra excursions – bring that $ with you, amount t.b.d.
When we visit Isla Mujeres and it's beach surrounded with beautiful turquoise water, y

ou can choose to shop and/or snorkel & explore the sea-life.
If you want to do even more, there are some excursion options we could get some groups together to do. Their prices are estimates & may change, like swimming with the dolphins ($140) or even the chance for a quick time with the ginormous whale sharks ($125 – $150).
See the area where we'll be helping a family in need & why. Watch this video…