Servant Leadership Conference will be January 8th & 9th 2021.
Last year's conference was so great, we've invited all the same guests back again.
Details are being confirmed and will be announced very soon.
.
See our past 2020 Conference info below.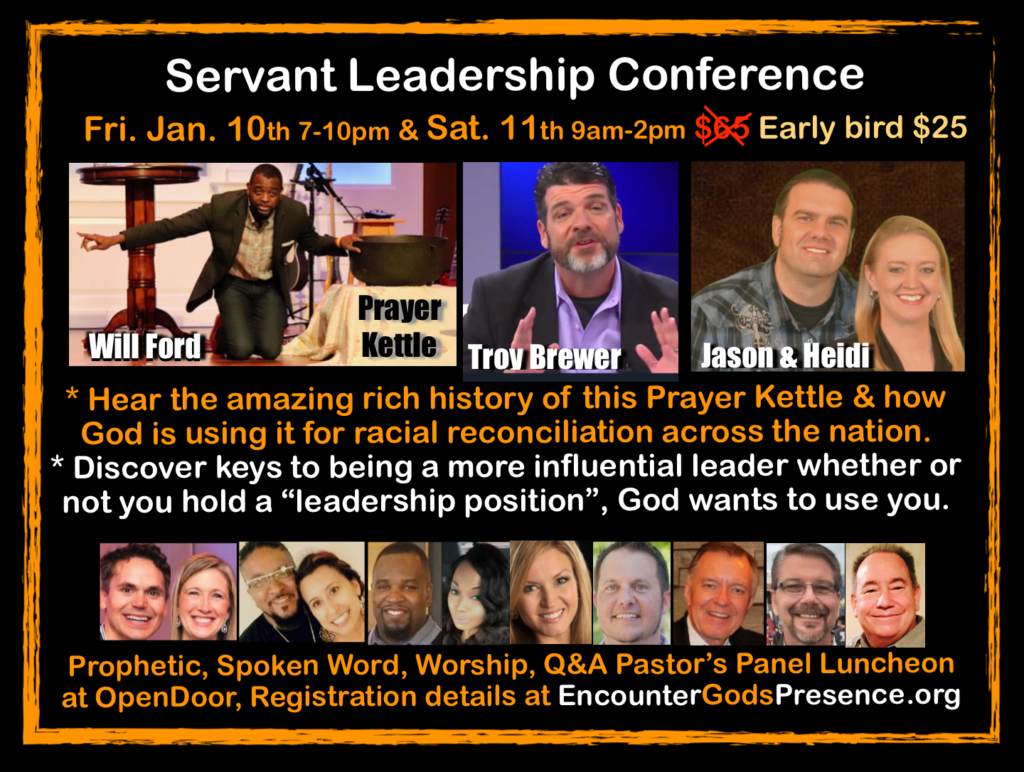 Servant Leadership Conference
Jan. 10th & 11th, 2020
Fri. 7pm – 10pm & Sat. 9am – 2pm
Special guests:
Will & Dehavilland
Ford, Troy Brewer, Shannon & Amanda Pickard, Paul & Yuri Huntington, Jason & Heidi Williams and many great pastors.
Registration forms for conference (unlike camp & mission trips) can just be scanned or taken a pic of and than emailed.

See Will Ford on 700 Club and Pastor Troy Brewer on various tv shows & videos…
Pastor Troy Brewer on GodTV…

…..
Heidi & the Encounter worship band will be leading us in some deep times of worship, we'll be taught some great Biblical truths by

Will Ford, Pastor Troy Brewer

and Jason Williams of EGP. Shannon & Amanda Pickard (a.k.a. Shan the Man)

and Paul & Yuri will help lead the prophetic ministry. So there will be times of personal

ministry, getting into God's Word, prophetic words & fellowship with some really good people.
There will be a special luncheon on Sat. for everyone to be a part of, we will have different pastors for a unique Q&A Pastor's Panel. (The lunch meal will be included in your registration.)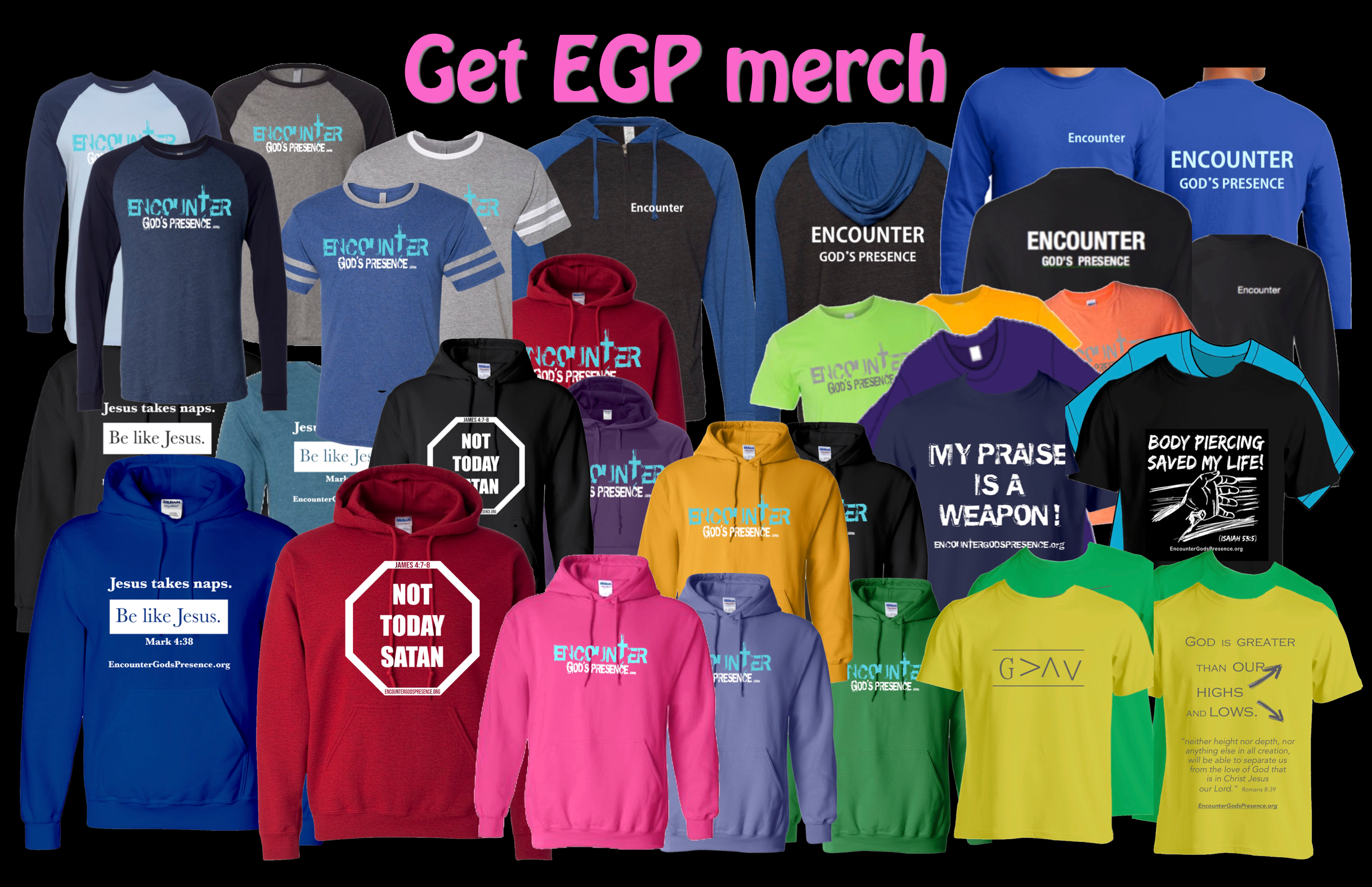 Fundraiser idea – Sample to ask others to help sponsor you. (click here)

LIMITED TIME SPECIAL OFFER – while scholarship money last…
Instead of $65, only $25!!!
Pay options are – Venmo, Zelle, Cash App, check to "EGP" or cash.
If using debit/credit through The Square or if paying through PayPal it's $27.
Below are a variety of ways for you to make your non-refundable payments.
** Venmo app (QR Code here)
** The Cash app (QR Code here)
** Zelle on your bank app / online account "send" it to EncounterGodsPresence@gmail.com
** Check – You could send us a picture of front and back of your check via email or text (or send it snail mail.) Made out "EGP".
** PayPal options below. (Some have extra PP fees. You do not have to have a PayPal account if you're using with a credit or debit card.) Special scholarship is only $25 ($27 covers fees).
.
Conference will be at OpenDoor Church in the 412 Room. If you need lodging, book yourself a nearby hotel room. (Below will be some hotel options.)
OpenDoor is at
301 S. Dobson St, Burleson, TX 76028
Needing a hotel room? Here's some hotel options.
Many who live locally are just commuting back and forth but if you need a room book your own room directly with the hotel of your choice.
– – – – – – – – – – – – – – – – – – – – – – – – – – –
Early bird by Dec. 20th, 2019 – individuals $55
After Dec. 20th – regular price is $10 more
After Jan. 15th – $20 late fee
Group leader & spouse only $100
(Church groups of 5 or more)
Additional adults/youth with your group is $45 each.
After Dec. 20th – add $10 to prices above
After Jan. 15th $20 late fee
**** PAYPAL click on arrows for options, pick one and than click on "Buy Now" button… (Extra for PP fees are already added in.)

(promo video for past conference below)
***** Below are special & unique pricing options with EGP Helpers, One Day Only, Need Help. (Other ways to pay above.)
Check out a previous conference's overview video below.
,
*** *** *** *** *** *** *** ***
Buy footage from past Servant Leadership Conference for only $25. The link will be emailed to you to have a variety of digital video footage. Clips will include the prophetic words from Paul & Yuri Huntington and Jeff & MK Chapman, sessions of Dr. Robb Brewer, Jason Williams & Shannon Pickard & times of worship with Heidi Williams & EGP worship band.
Click on the arrows below on the right side to choose cost options for the Conference.
PayPal payment options coming soon. (We're having issues with Facebook Messenger.)
Can I get a witness? Please let us know what you got of this past Servant Leadership Conference. Please email that testimony to EncounterGodsPresence@gmail.com
.
Please upload any pics or video you took at the past retreat. Just "add folder" in it and title it whatever your name is please.
Here's the online link for folder.
If you don't have an account, than just email us please.
Past promo videos…