Encounter God's Presence Camp June 8th-12th, 2020
Cost is only $255
(Youth Groups may add extra to cover travel & other expenses.)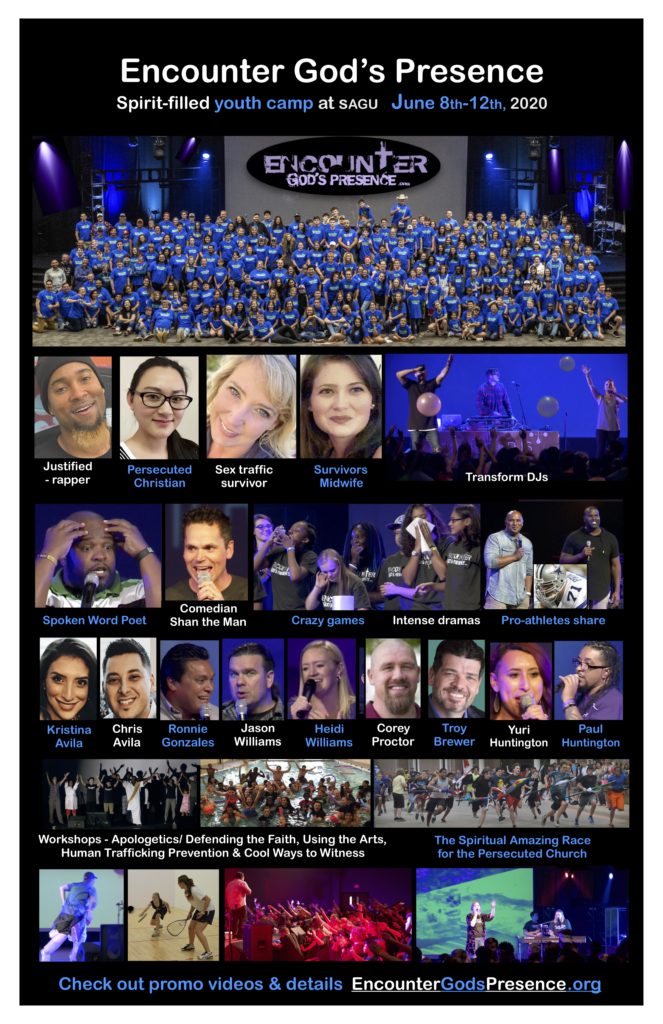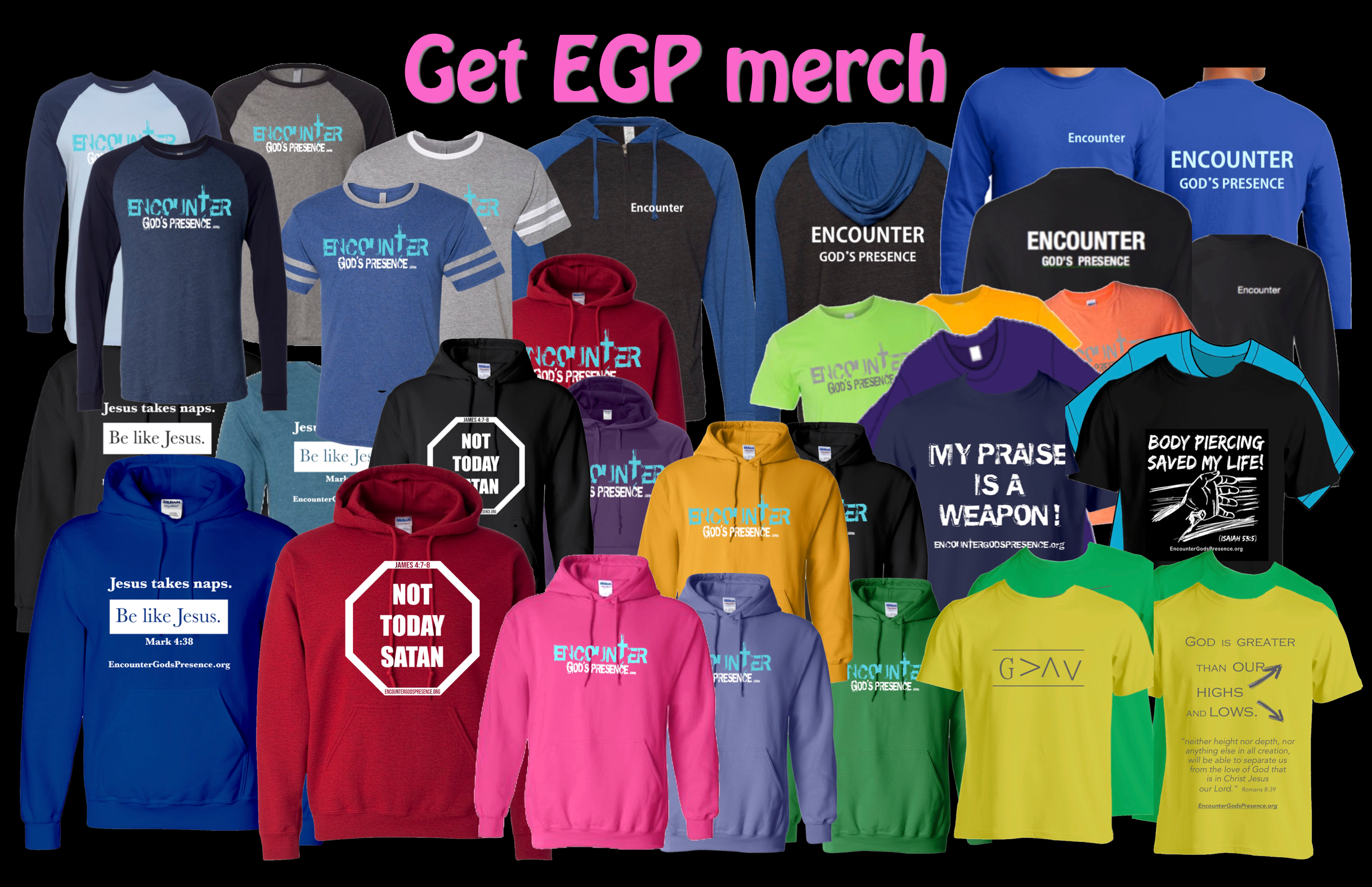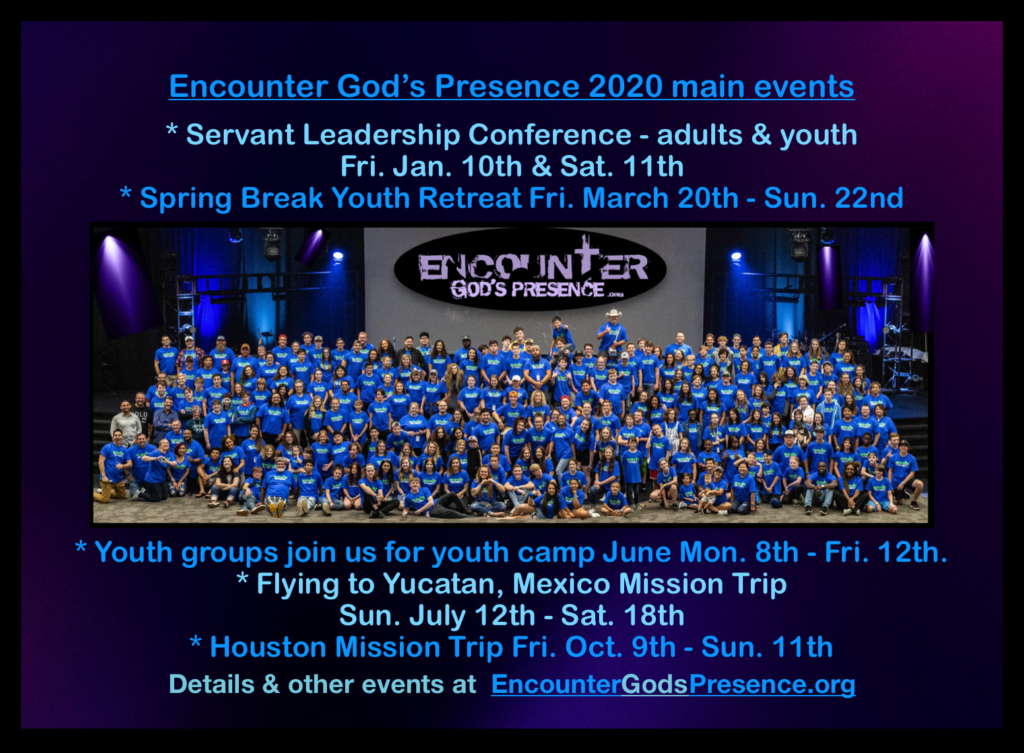 Check out the below overview of one of our past camps!
Relive past EGP Camps by getting all the footage…
We'll need to know if you'll be registering as an individual or coming as a youth group. Youth camp is for those graduated from 6th grade or 13 years old to graduating seniors. Individuals will be a part of a group that's led by an E.G.P. servant leader and need to have others fill out 2 evaluations.
Group leader – a

letter (click here)

about 4 annual main events. see last years
Also below are details for summer youth camp.
---
---
Cost per person is $255 (plus if any travel costs). Camp is geared towards Jr. High and High School age (some churches consider that as early as 6th grade or 12 years old). Make sure to check out our past

promo videos

and contact us so we can send you the promo packet for your group. $50 deposits will be due on Fri., March 6th, 2020. Camp will be at

Southwestern Assemblies of God University

in Waxahachie, Texas.
Youth groups show up at S.A.G.U.

on Mon. afternoon, have dinner, than our night session kicks off our camp together, and we end things with breakfast Friday morning.
Camp is $255
per person (same for teenage camper and adult worker). (Your church may need to charge your people some extra for any travel expenses). Please understand spots are on a… First come, First serve basis.
Payment Installment 2020 Due Dates for Early Bird Pricing:
* Friday, March 6th – $50 non-refundable deposit per person (hold onto your forms)
* Friday, March 27th – $100 payment (non-refundable)
* Friday, May 1st – $105 final payment, confirm everything is filled out on registration forms before mailing & make a set of copies to keep, email list of shirt sizes, and email male/female ratio of youth & adults.
(Payments non-refundable.)
Email room assignments after we get you the housing forms to fill out for the 2 different style dorms.

(Regular camp total is $20 more than Early Bird price. Details below.)

Late fee:
All churches should send in their final payment for their group by Friday, May 1st. (So you would probably want your camper's last payment due to you by Wednesday, April 29th.)
Any additional or remaining payments mailed after Saturday, May 9th should have a $20 late fee included per individual. All payments are non-refundable.
Please make church checks payable to "Encounter God's Presence" and mail to:
Encounter God's Presence
1169 N. Burleson Blvd.
Suite 107 #316, Burleson, TX 76028
Group leader

letter (click here)

about past year's 4 main events.
Youth groups need to schedule arrival check in time for Mon. between 2 – 4pm. Individuals who will be with EGP Student Ministries should arrive at 4:30pm.
Contact Us if you want more camp details and to confirm opens spots. We have a promo packet with posters, links to the online promo videos and a detailed letter to send your church.

Video overview for 4 key events for last year.
Encounter God's Presence and you will never be the same!
Young people can sit through countless sermons, mouth the words to the songs, and learn to speak "Christianese," but, until the Heavenly Father draws them (John 6:44), it can all become tradition and "playing church" (Mark 7:13).
But churches from all over can come together in unity and see God command His blessing (Ps. 133) and provide an atmosphere for lives to be radically changed.
Allowing the love of Jesus to captivate their heart & God's Word to renew them from the inside out (Rm. 12:2). Like Song of Solomon 4:9 talks about how, You have ravished my heart with one look of your eyes.
When they really encounter God they become disciples who crave the Bible (1 Peter 2:2), and begin to choose to be about The Father's business (Luke 2:49) and seek His will in every area of their lives (Prov. 3:5-6).
Becoming part of this Spirit-filled youth summer camp could be the very thing you're heart has been longing for.
We really believe it's important to have a healthy balance between fun recreational activities, and then the deeper times of getting into God's Word and pursuing His presence. Too many times camps can seem to go from one extreme to the other and end up neglecting where some youth are at spiritually, whether it be the "on fire for God" youth or the "pre-Christian" who has yet to encounter God's love. So we desire to create camps that will effect each teenager regardless of where they may be at spiritually.
****** ********* ******** ****** ********* ******** ****** ********* ******** ****** ********* ********

If you're with a youth group, you make camp payments to your leader and your church pays EGP.
If you're coming to camp as an individual without a group, you will be placed in an E.G.P. Student Ministries group at camp and you can mail checks (address at bottom) or online below.
1. Mail checks to E.G.P. at
Encounter God's Presence 1169 N. Burleson Blvd., Suite 107 #316, Burleson, TX 76028
2. Use "Cash App" (has no fees). If you've never used it, please use this code so we both get a $5 referral bonus after you use it.
If you're not on your phone just copy & paste this … https://cash.me/app/BRJFBWL into an email to yourself so you can click on it from your phone.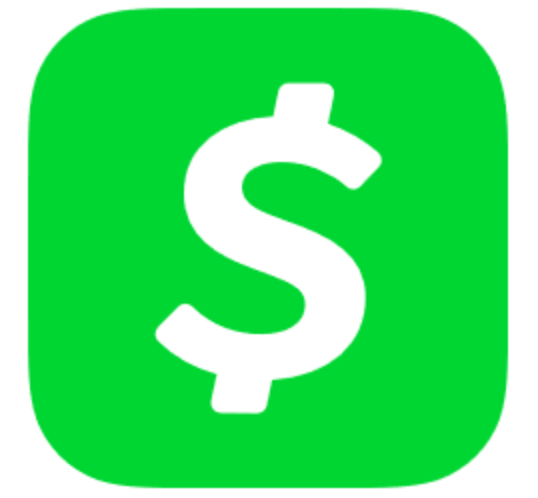 3. Use "Zelle" on your bank app (has no fees) for a direct bank transfer to E.G.P.'s bank account.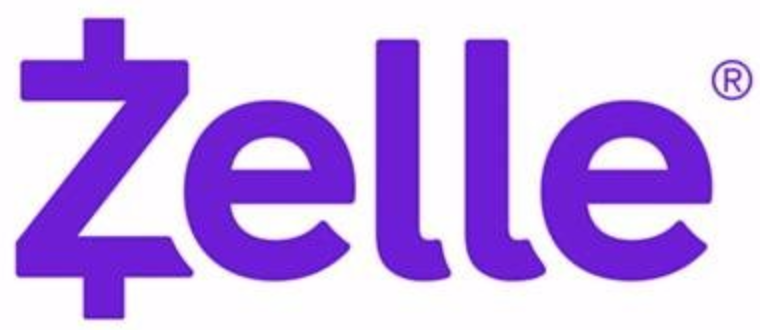 4. PayPal options below. (Note – some have fees.)
***** Camp Payments ****
****** ********* ******** ****** ********* ******** ****** ********* ******** ****** ********* ********
****** ********* ******** ****** ********* ******** ****** ********* ******** ****** ********* ********
A past year's rundown for camp, we'll have some of the same things for 2019 camp…
—– —– —– —– —– —– —– —– —– —– —– —– —– —– —– —– —– —– —– —– —–
Encounter God's Presence 1169 N. Burleson Blvd.
Suite 107 #316, Burleson, TX 76028 EncounterGodsPresence@gmail.com
"Encounter God's Presence" is a non-profit, 501 (C)(3) organization.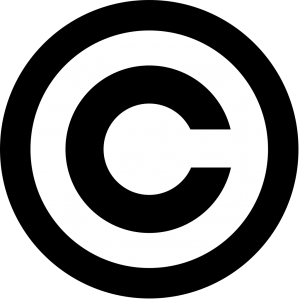 Encounter God's Presence