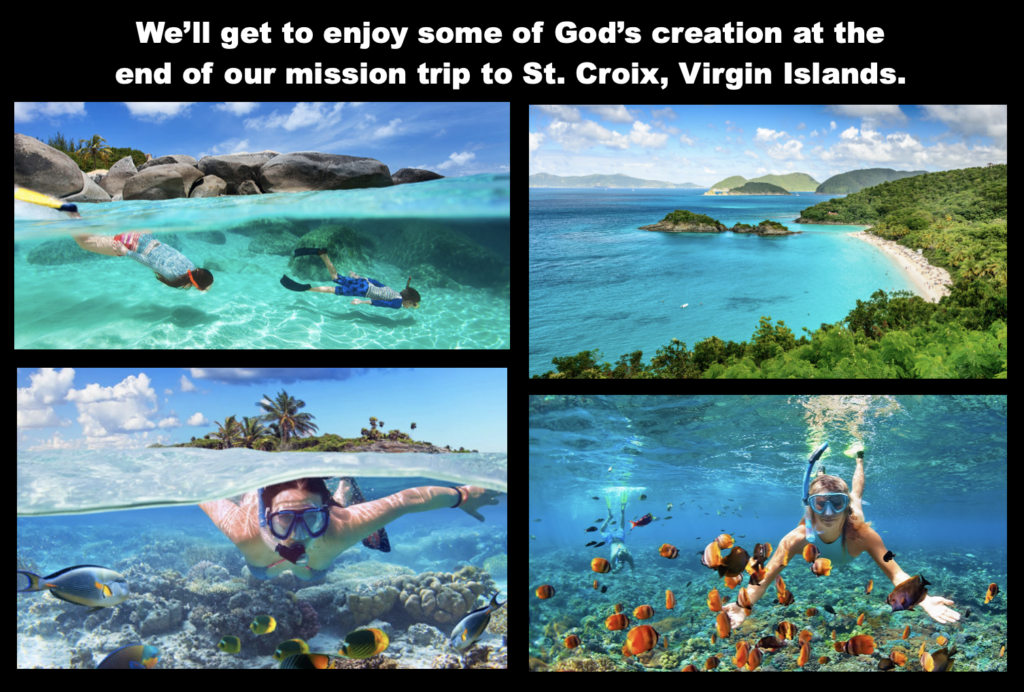 Join us as we go back for another mission trip to St. Croix, U.S. Virgin Islands. Many go to this island to vacation but just a few miles from tourist spots there are many overlooked people that are in need of much help. We want to be the hands and feet of Jesus to the local islanders through street outreaches, 3 day VBS, 4 Encounter God's Presence nights, bringing supplies to the orphanage and families in need. There are also work projects where we can really help a couple of the local churches. 
This amazing opportunity is for young adults, adults, youth groups and entire families (10 yrs & up). 

Be a part of this team where we plan to help meet some practical needs, perform dramas, lead worship, share God's truth, and praying for many and/or you may just rather serve and help with the work projects helping with painting or whatever else needs help.
Attention youth groups – We would love for your group to be a part of our youth summer camp and also this mission trip. This would take believing for enough finances through prayer, fundraisers and maybe even sponsors from within your church and/or community to be able to do both.
For this mission trip, you do NOT need a passport since the US Virgin Islands are an actual territory of the United States! Based on our past trip, they are not requiring a Covid test when returning back to Texas or whichever state you fly to (only when leaving Texas within 5 days of travel.) As of March 2022 masks are NO longer required anymore in most if not all of our settings.
After a week of serving and ministry, we'll wrap things up by enjoying God's creation on the beautiful Caribbean beach and snorkeling with the amazing sea life.
The trip should cost around $2,000, what you end up getting your flight for is one of the main factors. You can click on the "Payments /Meetings" button below for payment deadlines. Like $100 deposit non-refundable is due Feb. 20th and late fee if paid after March 24th. At the very bottom is a rough estimate breakdown of what the cost may look like.
NOTE – There's 3 required Prep & Prayer meetings on Sun. May 22, Sun. June 12 & Sun. July 17, all from 6-8:30pm . (If you're not local /out of state, make sure to request the training videos.)
1. Meals – average $35 for the day. (You would bring $/card for that with you to pay there.) Will estimate about $235
2. Hotel rooms, supplies, all transportation to and from STX airport, all our traveling for the week, pizza meal, bottled waters and special Buck Island snorkel excursion – $985 to EGP
So far both of those come to $

1,200
3. Flight – For March and April, the flight has been around $835. (Last year's trip, most paid $450 – $750 for flights but this year's flights have been running over $800.) Prices could go up $850 or even higher to like $1,000.
Flights can really fluctuate, gas prices could go up more. We can't wait too long hoping prices will go down because the less
expensive seats can get taken up leaving the more expensive ones. The main concern on waiting, is the flight can total fill up and get sold out.
If you buy your flight for $835 flight, you are at $2,035
Included in the cost, the group is doing a special excursion that takes a day tour to visit the famous Buck Island to snorkel the underwater reef trail to explore the sea-life. (NOTE: Adults or families preferring to not take part of this must request at the time of registering for the mission trip. Payments for this excursion has to made in advance to reserve the boats so we don't risk them booking up.)
Optional additional costs could be…
4. For a nominal fee, there's a great beach nearby to hang out at when we have some down time. Some are ranked in the top 10 beaches in the world! We will be surrounded by the beautiful turquoise water, groups may choose to shop, relax on the beach and/or snorkel.
Again the trip should cost about $2,000. What you end up getting your flight for is one of the main factors. You can click on the "Payments /Meetings" button above for payment deadlines.
NOTE – There's 3 required Prep & Prayer meetings on Sun. May 22, Sun. June 12 & Sun. July 17, all from 6-8:30pm . (If you're not local /out of state, make sure to request the training videos.)
(Last year's mission team.)